"Hmmm... tis a puzzlement. I ha' an idea fer tha sorta.. layout"
*He places a small piece of paper with a quick drawing onto the table*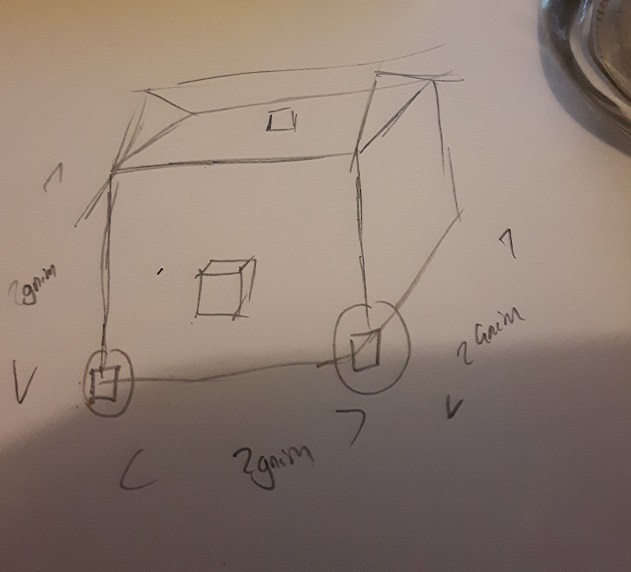 "Fer dimensions wise... looking fer two yeards long, high an' wide, wi' a door on wun side so thin's can be put in an' out. Bit like a small shed o' so. Plenny o' space fer clay fired bricks. Mayhap have tha whole thin' on wheels fer ease o' testin' afore placin' it on summat fer more permanent basis."
Sordoc looks to the others.
"There be some problems I ain't got tha lore how fer."
He counts them off on his fingers
"Wun - heatin'... likely done wi' some sorta enchanted summat o' o'er... dryin' clay out is a slowish process so... I dun't wanna lock down a mage fer a lon' time watchin' this thin'. Wouldn't mind it havin' summat so ain't all finger wigglers tha' can opperate thissen thin', but at leas' some form o' trainin' migh' help.
"Two - tha place is gonna get real hot so... needs sum sorta heat resistin' material o' enchantment on tha walls. Note this thin' about 24 yard squares... so thin's either have ta be cheapish side an' replaceable wi' some ease... cos I don't wanna wake up wun morn ta find some git's pinched half tha inside ta flog off ta sumwun.
"Three... I want a fair number o' methods ta stop thissen thin' frum o'erheatin' and/or goin' ka-blooie. As well as mayhap o'er thin's ta stop it frum cookin' folks inside... don't want it bein' used fer disposal o' undisireables..."
He looks round the table, noting some of the looks, likely of the guardsmen keeping an eye on Sordoc.
"an' four... costs are gonna try an' keep lowish... don't want some super rare material tha's perfect fer tha job iffen it's gonna cost a million coin per square inch."