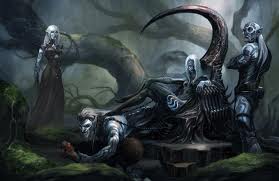 THE QU'ELLAR
The hierarchy of the drow is not based on the typical ladder concept with
the leader at the top and the work force at the bottom. Instead it is
better compared to the complexity of a spider's web. Thousands of
concentric rings forming a single House, with the leader situated in the
center and the lesser members making out the outtermost rings. From the
center the leader pulls the main strings through force of
personality, seduction, and brutality. These strings are made up
of the House Masters and depending on house customs may be appointed to any number of titled charcters. Most typically are; Yath'Tallar, Qu'el'Faruk, Qu'el'velguk, Qu'el'saruk. On our server there are is a special sect of Master known as the Qu'el'Queshel (Dark Choir of Lloth).
The Hierarchy in a Qu'ellar (Noble House) from Greatest to Least is listed as follows;
Matron Mother / Ilharess
: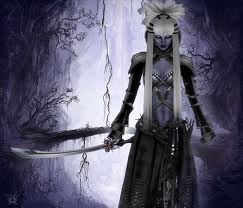 Matron Mother / Ilharess
:
In the center of this large intertwined web that is the Qu'ellar,
sits the Matron Mother. As a fat spider pulling the strings of the entire
House, she is the dominating figurehead and all decisions for the house go through her. The Matron has full disposal of all resources that the Qu'ellar can provide. It is she who unquestionably leads
and brings focus to the House as a whole, though influence from other members always plays a part. Although the Matron
technically has the right to claim anything she wishes of her House
members, she would do well not to pull any one string too hard, or the
web collapses around her. The responsibility of the entire House rests
in the web she has spun. A strong Matron is able to direct and shape an
entire community through her House, demanding enough of her members to
be successful, but also providing enough benefits for the members of her
House to be satisfied despite their sacrifice. Though she possesses a seat in the Church of Lloth she may not cast a vote when there are proceedings or judgements pending. The Yath'Tallar of her House owns two votes to spend as she chooses, and should ultimately be for the greater vision of her diety's will.
Requirements
:
-21 Character Levels total
-May not be Yath'tallar
-Can be any Legal Class
- Have half of the House Masters on your side.
-You must defeat the current Matron in combat, be it Physical, Political or other means.
Should a player fail to appear In Game on a consistent basis they should have the professional courtesy to surrender this position to the next daughter in line (Most cases the 1st Daughter). The Dm team should not have to implement actions that remove anyone from a seat of power. But if we feel it delays significantly or infringes upon other characters right to progress in plots, then it will be done. After a period of two weeks a player who fails to make an appearance (for any reason) automatically forfeits this position. The Title will be considered abandoned and the DM team will allow the Masters of the House to determine the next in line. If a decision has not been made in a week from this time, one will be appointed by the staff.
If you do aim to achieve a Master/Matron
position then you should only strive for one if you are prepared to lose
it again. I feel it is important to note that two candidates, or even
more, can easily be favored for the same position which means the one
who put the most effort into succeeding most likely will do so. Because a
new person is favored for a position, it does not necessarily mean we
think the current one is doing badly but we are offering a chance for
some fresh blood to replace our current leadership with no OOC bad
feelings involved. What we want is drow RP and you can be sure you won't
just get a Master/Matron title without working hard for it and the same
can be said for keeping it. When a new Master/Matron is chosen she has
two months of sanctuary where her position may not be challenged.
We do not enforce perma-death in the House, as this would quickly leave us
without members at all, if a Master loses his position he will be forced
to move one ring out in the web. An example of this could be from House
Weapons Master being defeated and having to move one ring out to the
Warrior station. The old House Master would in turn be free to try and
reclaim their old position after the two month sanctuary if he is so
able.
Why do I allow for this chaotic form of leadership you
might ask? To put it simply I hope it might promote drow RP in its
finest form and it prevents the House from ever falling silent. Our
characters should be afraid of losing their position, and it should be a
real threat. This is the drow game, this is the intrigues, and this is
why the drow can act polite when facing an ambitious rival. They want
to keep each other off-guard, but they need to work together as well.
Proving good RP, never taking an IC conflict OOC, and showing leadership skills will be taken into the equation as well.
But above all this system allows for everyone to gain influence inside the House if they put enough effort into it.
OOC information
This is a call out, both to present and future Players that would like to be
in the position of Authority, for instance becoming a House Master, one
of the Matrons daughters/sons, or even becoming the Matron Mother
yourself one day.
* Responsibility. With great power comes great responsibility. I expect you'll dedicate the time needed to
fulfill your role. You will have one MAIN character that you spend most of your time on, or will switch to if needed.
* Initiative, take it. And for the love of all the hairy legs of Lolth, pass it along to those below you.
* Plotting, the capacity to make small player driven plots within the House. It doesn't have to be big, but simple things like pitting two Characters against each other in a series of tests
* To accept the fact you CAN be overthrown and lose your position, and that this isn't a personal attack on you. It's an attack on your character, and it's good Lolthite
RP
What you can expect in return:
* Authority. House Masters will be able to promote anyone within their part of the House
* Influence. The House Masters and Daughters are the only ones close enough to the Ilharess to get a real influence in her decisions.
* More or less free reign. I'll happily assist you with OOC advice and suggestions if you ask for it.
* Unity. Not IC, but OOC. We're working together about this project, no matter what our characters are doing.